This is one of those projects that wanted to be difficult. I almost finished it yesterday, until I realized I made a boo boo. So when I went to remove the beads and fix the colors, I found that by adding the extra stick out side beads early with brick stitch, had pretty much locked my work in, and made it unfixable. Boo. I didn't think I would have the motivation to do it again, after working so long on it.

But the good news is I rebeaded it today, with colors I liked so much better. So something good came from something initially frustrating.

I will make sure to finish the main body of work now, and then add the brick-stitched sides. So if I make a mistake again, I will be able to fix it easier. I prefer to do the main part in peyote first, even though I could do the whole thing in brick stitch. Some you have to do all brick stitch anyway, it just depends what sort of design it is.

This only had 11 colors, but I kept messing up on this one. I am used to word charts I guess, so sometimes when colors are similar on the graph, I tend to use the wrong shade/delica bead, and not even see that the symbol is different.

I am glad I finished it. She does take a little while to bead up (3+ hours), but has a very cute face. I will turn it into a necklace when I get a chance.
Powered by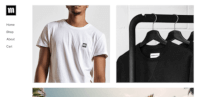 Create your own unique website with customizable templates.